ULTREAN 32QT Toaster Oven FAQ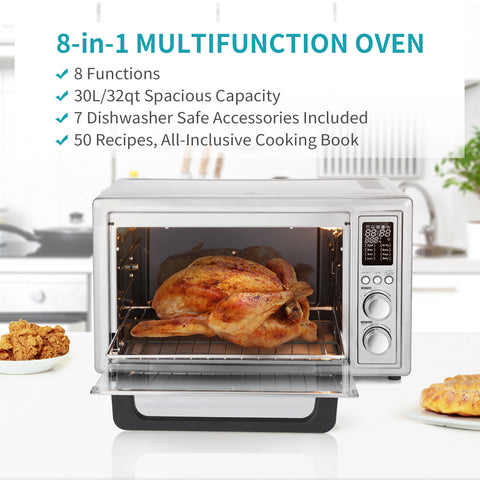 UNIT DESCRIPTION
The unit has 4 heating tubes (2 on top and 2 below)
Fan is located on the right side of the oven
Multilevel cooking is possible ( Has 3 oven trails can do 3 cooking levels)
Maximum heat of the external part when cooking can reach up to 140 F
Maximum food weight on the rack or basket should not exceed 6.61lbs or 3kg
Can roast up to 5.5lb of chicken (rotisserie function)
Has automatic preheat function (Press START/ CANCEL button) and it will go to preheating mode. Display will show PRE to indicate preheating process.
HOW TO SET THE CLOCK (If the customer wants to set the CLOCK function if the unit is plugged in and cooking function is not used)
DISPLAY 12 HOURS FORMAT
Press and hold TEMP/ TIMER for 3 seconds in stand mode to enter the clock setting
Once the clock flashes turn the knob to set the hour. Once done press the knob again to switch to the minute setting. It flashes again to signal it's ready to be set, turn the knob again to set the minutes.
Press the knob again to switch the clock to hour and minute setting.
Press START/ CANCEL button to save and confirm.
HOW TO TURN ON:
Press the START/ CANCEL button
HOW TO CANCEL OPERATION OR RETURN TO STANDBY MODE:
Press and hold the START/CANCEL button for 1.5 seconds to cancel the cooking process.
NOTE: This unit has an AUTOMATED PREHEATING PROCESS even you use the PRESET COOKING FUNCTIONS e.g. airfry. pizza etc.
The preheat function is built in to the unit and cannot be canceled or changed. Wait until it's done and you can manually make adjustments or change the cooking modes.